Step 1: Register
Registering is free and easy. Get started!
Once your account is registered, be sure to then set up your Seller Settings. Note that all sellers on Discogs must have a Verified PayPal account and complete Shipping Policies for the countries they wish to ship to.
As of February 1, 2022, our default payment program is our PayPal Payments solution, which allows your buyers to pay at checkout and use a variety of local payment methods.
More information on all of the above can be found here:
Listing is free. Once a buyer places an order with you, we collect a 9% fee (charged on both the item price(s) and shipping costs) at the time of transaction. For more information, visit our separate help document: What are The Fees For Selling On Discogs?
Step 2: Find what you want to sell
To list an item for sale, use the search bar that's at the top of every page to look for the item you'd like to sell. Make sure the copy in your hand exactly matches the entry in our database.
Already in the Database? If you've found the right release, simply click on the Sell button on the right side of the release page.

Check out this video to see the process:
Not yet in the Database?

Nice, you have a unique release! You'll need to first submit it to the Database before you can list it for sale. You can view our separate help documents about contributing to the Database

here

.
Quick Tip! Once you've gotten used to this process, you may want to give our Quicklister a try! This is an efficient way to list multiple items for sale in rapid succession. Check out this video here to learn more:
Not shown in these two videos is our new Quantity feature, which allows you to list multiple copies of the same release at once, rather than repeating the listing process for each item. This feature is found near the bottom of the page when listing an item for sale.
When listing a release at a quantity of two or more, all copies of the release should be the same version of the release with the same media and sleeve condition or grading. Each copy will be listed with the same description and price.
Only one copy of the item you're selling will appear in the Discogs Marketplace at any given time. As that one copy sells, another copy will be added to the marketplace without you having to lift a finger.
Step 3: Describe the condition of your item
Select the condition of the media and the sleeve from the dropdown menu.
Condition comments are optional, but will help your buyer better understand the exact condition of this item. If you're a larger seller, you may find it useful to add private notes, such as the physical location or reminders about that particular item.
Step 4: Set the item price
Beside the box where you can enter the price, you'll see an automated suggested price. This price is based on the media condition you've selected for your item, along with the recent sales history of this item in similar conditions. Click the price to automatically fill in the Price box. Otherwise, set a price you think is fair!
"Item weight" and "Count as" will be automatically filled in based on the information from the database listing. Usually, you won't need to change the information here.
Click the green "List item for sale" button and you're done! You've listed an item for sale on Discogs. Items are generally added to our browse/search pages within 5-10 minutes.
Step 5: Progress the order
When a buyer purchases your item and makes the payment, the order will automatically update to Payment Received. When a payment is sent but does not clear right away, PayPal marks this payment as pending. Typically, this is the result of an e-check. The Discogs order page will also reflect this pending payment by updating the order status to Payment Pending. When the payment clears, Discogs will update the order to "Payment Received". We advise our sellers to wait until the order is set to Payment Received before sending out your items. For more information about the pending status you can visit the article Why Does Discogs Show "Payment Pending" On My Order?
Sellers can also use the optional status "In Progress" between the Payment Received and the Shipped status to let buyers know that their order is being processed, packed or ready to be shipped. If you'd like to know more about order status, you can visit our document What Do The Different Order Statuses Mean?
This status can be especially useful for big sellers that need to search for the record in their warehouse. Sellers can leave an optional courtesy message to inform the buyers about the progress of the order. This option is available when the In Progress status is selected.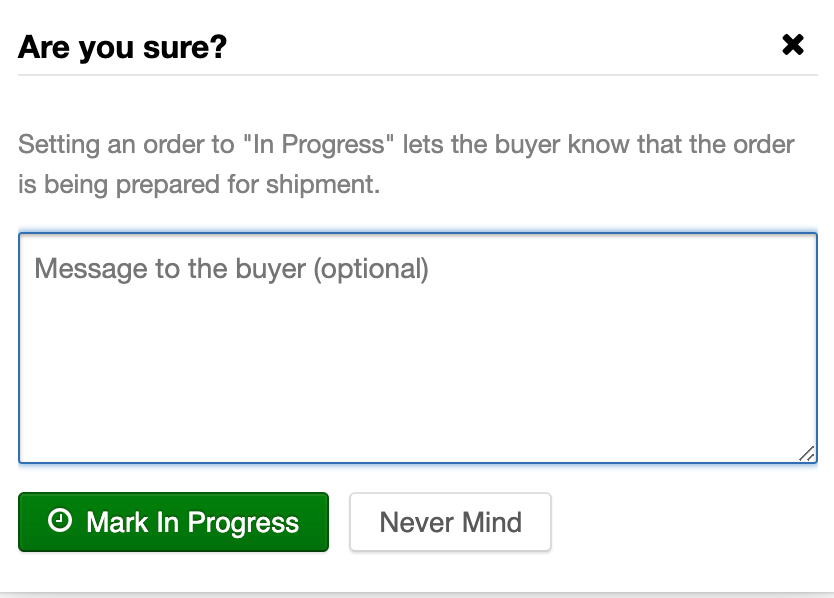 On the Manage Orders page, the seller can easily update multiple "Payment Received" orders to "In Progress", as well as filter for "In Progress" orders to easily find and update them.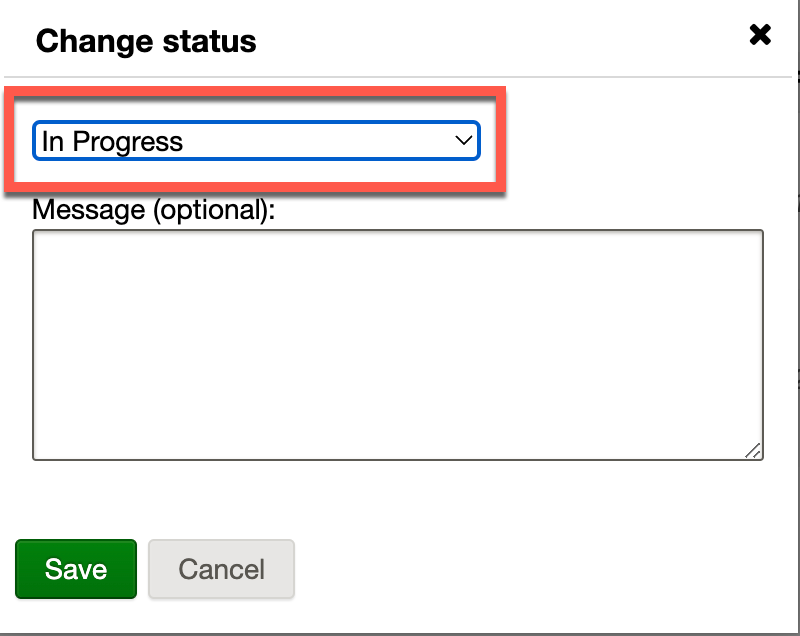 From time to time, an order might arrive in the status Invoice Sent. In most cases, the buyer can use the payment button on the order page to complete the payment. If they are unable to do so, please review our document Why Am I Unable To Pay For My Order?
Receiving a payment completed notification from Discogs is only the first step. Please always check the communication received from your payment provider. For example, e-checks can take up to 6 business days to clear and for the money to appear in the recipient's PayPal account or to be canceled because of the buyer's insufficient funds. Sellers should wait to have the confirmation that the e-check has been "Completed" or "Cancelled" before shipping the order. If the payment status indicates "Cancelled", please contact our support service to have the order status reverted before your buyer can send a new payment.

Ready to ship your order? Be sure to review our guide on how to properly package your items! Shipping internationally? You may be required to follow additional procedures, such as submitting your tax information digitally to the foreign customs agency. Please read our related help document: How To Ship An Order Internationally
Should an order not work out, you can refund your buyer, which will automatically adjust the order page. Please review our document How Do I Refund An Order?
Step 6: Leave feedback for the buyer
Feedback is optional, but should be left once a transaction has been completed so that other sellers may benefit from your experience. It's important to remember that once feedback is left, it becomes a permanent part of the user's profile.
You should always try to work out any problems with the buyer before leaving feedback – most issues can be resolved through good communication.
If you have any questions about how to leave feedback or our feedback guidelines in general, please see our Feedback Guidelines document.
Step 7: Pay your invoice
With the new PayPal payment system, there will not be any selling fee invoices. When an order is paid for, Discogs' selling fee and taxes that are collected by Discogs will be automatically deducted and directed to the appropriate party.
For more information about the PayPal payments system, please visit our Paypal Payment Solution FAQ.
If you are a seller located within Japan or the European Union, Discogs has to charge VAT for all Discogs selling transaction fees (not for the order itself). Certain US sellers may also have to pay local sales tax. Depending on the state, this needs to be arranged themselves, or Discogs will collect and remit the taxes for you. Please review our U.S. Sales Tax document for further information.