Sellers are expected to provide clear shipping information, which is to be placed within their Seller Terms.
Buyers should be able to see, in advance, exactly what shipping costs they will be paying, regardless of the item or shipping method, on top of the purchase price. This is part of our Sales & Transactions Policy.
Sellers can manage their Seller Terms from their Seller Settings page by scrolling down to the section that says Seller Terms, underneath the Shipping Policies section.
Where can I view Seller Terms?
The information entered in the Seller Terms text box will be visible on the bottom of the page for every item the seller lists for sale. The information will also be exposed if a buyer clicks on the "View Seller Terms" button for the item for sale:

Seller terms can also be viewed directly from a seller's profile page:

You can also view the seller's terms from the cart before placing the order: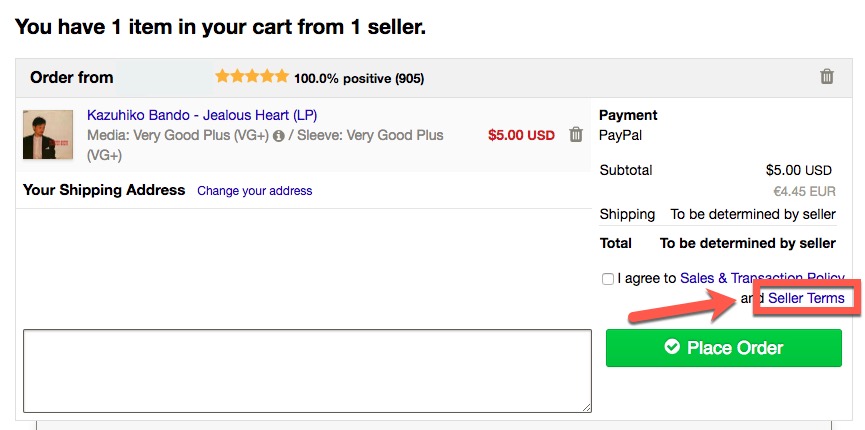 What needs to be included in the Seller Terms?
Sellers are required to provide clear and detailed information on the actual shipping prices and return policy here:
How much shipping will cost for each region the seller agrees to ship to. If a seller accepts an order from a region that does not have a stated shipping charge, the buyer may request cancellation and feedback removal.

How many days it takes to ship an order once payment is received. If this timeframe is not stated in the Seller Terms, the buyer may request a cancellation due to Item Unavailable when the order is not shipped within four days of payment received.

Any regions the seller refuses to ship to.

The cost of any shipping add-ons such as tracked, signed for, insured delivery.

Any required shipping add-ons for items exceeding a certain price.

Any requirement for a minimum order amount or value. You can also set a Minimum Order Total in your seller settings.

Any regional sales tax the seller is required to collect by law.

Information about returning and refunding items, including if the seller agrees or does not agree to pay for return shipping when a return is requested. (*Sellers must comply with their local laws and regulations with regards to returns and refunds).
Incomplete Seller Terms can result in an order being cancelled due to Item Unavailable if requested by the buyer.
Please find an example of basic Seller Terms here:
Please remember that Seller Terms must align with the policies of their accepted payment methods. Any information in the Seller Terms that does not align with the policies of the seller's accepted payment methods will be not be recognised or enforced by Discogs.
Want to stay up-to-date on Discogs news, and receive Community Tools straight to your inbox?
Update Your Notification Settings »